Motorcycle Accidents in Arizona: Surviving the Crash and the Claim
In the United States in 2009, there were a total of 94,462 motorcycle accidents, 4,462 of which involved fatalities. The average hospital charge for motorcyclists with serious head injuries was approx. $43,214, not including the cost of treatment for orthopedic and internal injuries, and these costs continue to rise every year. Motorcycle crashes are almost never routine and are vigorously defended by insurance companies.
Because many motorcycle crashes victims are often immediately transported to an emergency room, the police report may be inaccurate and jeopardize your claim. Download this eBook to get the real inside story to motorcycle crashes and compensation. CHECK YOUR EMAIL FOR A DOWNLOAD LINK!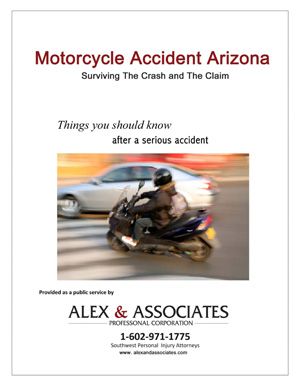 Handling Personal Injury Matters with a 99% Success Rate!
Construction Accidents $6,300,000

Construction Accidents $2,500,000

Government Negligence $2,000,000

Wrongful Death $2,000,000

Motor Vehicle Accidents $1,300,000

Motor Vehicle Accidents $1,240,000

Motor Vehicle Accidents $1,200,000

Medical Malpractice $1,020,000

Motor Vehicle Accidents $900,000

Trucking Accidents $900,000
Committed to Changing Lives for the Better
I really appreciate Tristan and Lori went battle for me to win my case - Charles A.

Thank you Laura & Trista for your hard work - April A.

I would highly recommend this firm, there isn't anyone better out there! - Amber B.

They got me a good settlement for my personal injury claim. - JK R.

Highly recommend. - Natalie M.
Advanced Cutting-Edge Technology to Win Cases

The Clients We Serve Are Our #1 Priority

We Provide Initial Case Evaluations Free of Charge

Our Firm is Backed by a 99% Success Rate

We Handle Cases With a No-Fee Promise

Representation in Both English and Spanish