Free Legal Guide to Phoenix Bicycle & Pedestrian Accidents
When cars collide with pedestrians and bicycles, there is high potential for serious injury. Each year approximately 5,000 pedestrians are killed (64,000 injured) and 630 bicyclists are killed (51,000 injured) in motor vehicle accidents every year. Speeding is a major contributing factor in motor vehicle accidents of all types and leaves victims severely injured (brain and spinal cord injuries, fractures, paralysis, etc.).
It is important that you or a family member retain an experienced pedestrian or bicycle accident lawyer at the earliest possible time. Request this valuable eBook to find out if you have a good case. CHECK YOUR EMAIL FOR A DOWNLOAD LINK!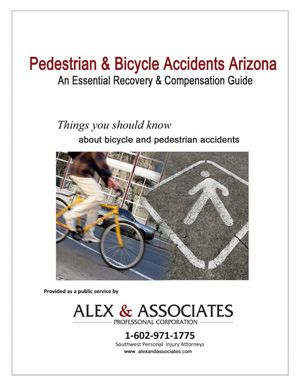 Handling Personal Injury Matters with a 99% Success Rate!
Construction Accidents $6,300,000

Construction Accidents $2,500,000

Government Negligence $2,000,000

Wrongful Death $2,000,000

Motor Vehicle Accidents $1,300,000

Motor Vehicle Accidents $1,240,000

Motor Vehicle Accidents $1,200,000

Medical Malpractice $1,020,000

Motor Vehicle Accidents $900,000

Trucking Accidents $900,000
Committed to Changing Lives for the Better
I really appreciate Tristan and Lori went battle for me to win my case - Charles A.

Thank you Laura & Trista for your hard work - April A.

I would highly recommend this firm, there isn't anyone better out there! - Amber B.

They got me a good settlement for my personal injury claim. - JK R.

Highly recommend. - Natalie M.
Advanced Cutting-Edge Technology to Win Cases

The Clients We Serve Are Our #1 Priority

We Provide Initial Case Evaluations Free of Charge

Our Firm is Backed by a 99% Success Rate

We Handle Cases With a No-Fee Promise

Representation in Both English and Spanish