Phoenix Motorcycle Accident Lawyers
Providing Proven & Experienced Legal Representation
There are more than 3,000 motorcycle crashes each year in Arizona. In 2016 alone, an alarming 134 victims were killed in motorcycle accidents. Unfortunately, the percentage of motorcycle crashes to all motor vehicle accidents continues to rise.
When you've been injured in a Phoenix motorcycle accident, call Alex & Associates at (602) 483-6114 or send us a message online today.
What Are Causes of Motorcycle Accidents?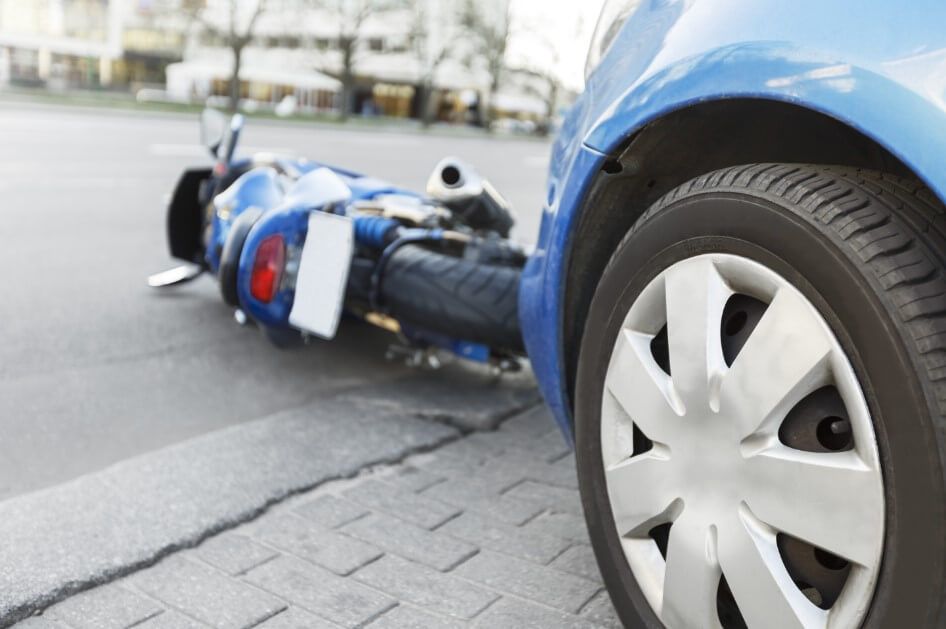 Due to the lack of protection, a motorcycle offers its riders, the impact of a crash can result in devastating injuries to the motorcyclist and no injury at all to the at-fault vehicle driver who caused the crash.
Although the motorcycle community has experienced astounding growth over the past few years, other vehicle drivers continue to be unaware of their presence on the road.
Some common causes and types of motorcycle crashes include:
Head-on crashes with other motor vehicles
Other motor vehicles taking a left-hand turn and hit a motorcyclist traveling in the opposite direction
Other vehicles changing lanes without seeing a nearby motorcycle
Motor vehicles following too closely behind a motorcycle
Parked vehicles opening their door into a passing motorcycle
Other motorcyclists who are not practicing safe driving behaviors
Remarkably, some insurance companies still attempt to blame the motorcyclists for their accidents and injuries. Alex & Associates has been defending the rights of motorcyclists in Phoenix for over 43 years. No matter what, we are on your side and will do our best to obtain the most favorable outcome possible.
Unsure how to proceed with your motorcycle accident injury claim? Call us today at (602) 483-6114 to schedule your free consultation. Hablamos español.
Motorcycle Accident Injury Cases We Handle
If you have been injured in a motorcycle accident, you are most likely dealing with seriously, life-changing injuries. Alex & Associates has the experience, knowledge, and skills to investigate and litigate serious motorcycle crashes.
We have represented clients who have suffered the following types of motorcycle accident injuries:
Head and brain injuries
Spinal cord damage
Paralysis
Orthopedic fractures
Internal injuries
Wrongful death
If you or a family member has been injured in a motorcycle accident in Phoenix, please contact our main office at (602) 483-6114 for a free consultation. We take excellent care of our clients and their families.
Our relentless legal team works hard around the clock to ensure each and every one of our clients receive the high-quality legal representation they need and deserve.
Why You Need An Experienced Phoenix Motorcycle Accident Attorney
Motorcycle crash victims are often immediately transported to an emergency room. They may not have the opportunity to explain what happened to the investigating police officer.
The police officer is likely to obtain the facts of the accident from the other driver, the driver's passenger, or witnesses who may not tell or know the complete story. The police investigation may be inaccurate and jeopardize your claim.
Motorcycle crashes are almost never routine and are vigorously defended by insurance companies who wish to retain as much of their profits as they possibly can. It is important that you or a family member retain an experienced motorcycle accident lawyer in Phoenix.
Alex & Associates can enlist the help of an investigator to interview all the witnesses while the accident is fresh in their memory. We also can send an accident reconstructionist to visit the accident scene to measure and compare their findings to the traffic accident report.
Often times, physical evidence at the scene such as debris, tire marks, and other witness marks are overlooked by investigating officers. Our experts scientifically establish the dynamics of the accident and who was at fault. Most of the time, it is the other motorist who was careless or reckless in causing the motorcycle crash.
The Process of a Motorcycle Accident Claim
Alex & Associates has extensive experience in handling complex motorcycle crashes and obtaining successful results for our clients. The key reasons for retaining our firm are our experience, knowledge, and results. Just as important, our attorneys and staff understand that severe or catastrophic injuries will turn your life upside-down.
We do whatever possible to lessen your stress and anxiety about the cost of your medical treatment, financial hardship, and uncertainty of your future. We will work to lift the legal burden off your shoulders entirely. Our firm brings together a team of leading experts.
It is common to retain an:
Investigator
Accident reconstructionist
Physician
Life-care planner
Vocational rehabilitation specialist
And an economist to build a complete picture of your injuries and damages (past and future)
We may also refer you to leading neurological specialists for spine and traumatic brain injuries. We may also arrange for an orthopedic doctor to provide treatment for such injuries sustained to the neck, shoulder, back, pelvic, hips, and other bone and joint injuries.
At Alex & Associates, our team is led by experienced trial lawyers. Our goal is secure the highest settlement possible. If we believe your case is worth more than the insurance company is offering, we are not afraid to take your case to trial.
Reach out to our motorcycle accident lawyers in Phoenix today to discuss your case. Contact us online for a free consultation!
What to Keep in Mind When Filing a Motorcycle Accident Claim
When filing a claim for a motorcycle accident, you should keep in mind that:
Other motorists often fail to appreciate the inherent operating characteristics of motorcycles.
Motorcycles do not stop on a dime.
Most car and truck drivers are not able to estimate motorcycle speed or the distance the motorcycle driver requires stopping.
It is more difficult for a motorcycle than an automobile to avoid a road hazard such as construction debris, a parked car, or broken pavement, without losing control.
The most common statement from a motorcycle driver or passenger following an accident is, "the driver didn't even see me."
It is not a valid excuse for the motorist to deny seeing the motorcyclist.
Our motorcycle experts can help prove your headlight was on before the collision.
Our firm is up-to-date on helmet laws and will retain a biomechanical expert to rebut an insurance company's lack-of-helmet defense.
We will work with our experts to determine whether an accident was caused by defective equipment, a phantom vehicle, gravel spilled from a rock truck, or other causes.
Victims of motorcycle crashes are entitled to compensation for property damage, medical bills, lost wages, pain and suffering (past and future), and permanent injury or disfigurement.
A motorcycle passenger may be able to sue the motorbike driver for negligence, depending on the situation.
Why Hire a Trial Lawyer?
We Know the Game. We're Prepared to Win.
If you decide to seek legal representation, we encourage you to be represented by a skilled "trial attorney" and not a "settlement attorney." Many personal injury lawyers are in the business of settling cases as quickly as possible. They get paid, but did you really recover as much compensation as you could?
Don't let the term "trial attorney" scare you. Trial attorneys routinely obtain the highest settlements without even going to trial. Since trial attorneys know how to go to trial and are willing to go to trial, insurance companies often offer much higher settlements in order to avoid going to court, where they stand a poor chance of winning. It's a simple matter of leverage.
Handling Personal Injury Matters with a 99% Success Rate!
Motor Vehicle Accidents $1,240,000

Motor Vehicle Accidents $1,200,000

Motor Vehicle Accidents $900,000

Motor Vehicle Accidents $380,000

Motor Vehicle Accidents $265,000

Motor Vehicle Accidents $1,300,000

Motor Vehicle Accidents $475,000
Committed to Changing Lives for the Better
I really appreciate Tristan and Lori went battle for me to win my case - Charles A.

Thank you Laura & Trista for your hard work - April A.

I would highly recommend this firm, there isn't anyone better out there! - Amber B.

They got me a good settlement for my personal injury claim. - JK R.

Highly recommend. - Natalie M.
Advanced Cutting-Edge Technology to Win Cases

The Clients We Serve Are Our #1 Priority

We Provide Initial Case Evaluations Free of Charge

Our Firm is Backed by a 99% Success Rate

We Handle Cases With a No-Fee Promise

Representation in Both English and Spanish