Truck Accident Lawyers in Phoenix
Fighting for the Compensation You Deserve. Call
(602) 483-6114

.

Andrew Alex, founder of Alex & Associates, has been strongly representing trucking accident lawsuits for over 43 years. Using years of experience and in-depth knowledge, Alex & Associates have obtained consistently remarkable results for their clients.

Tractor trailer accidents are generally complex and accident victims are often seriously and permanently injured. The key to maintaining an independent and dignified life (as opposed to a life of charity) after a serious tractor-trailer accident is the quality of your attorney.

The Phoenix truck accident lawyers at Alex & Associates may be reached at (602) 483-6114 for a free consultation. Hablamos español.
Handling Trucking Accident Lawsuits since 1974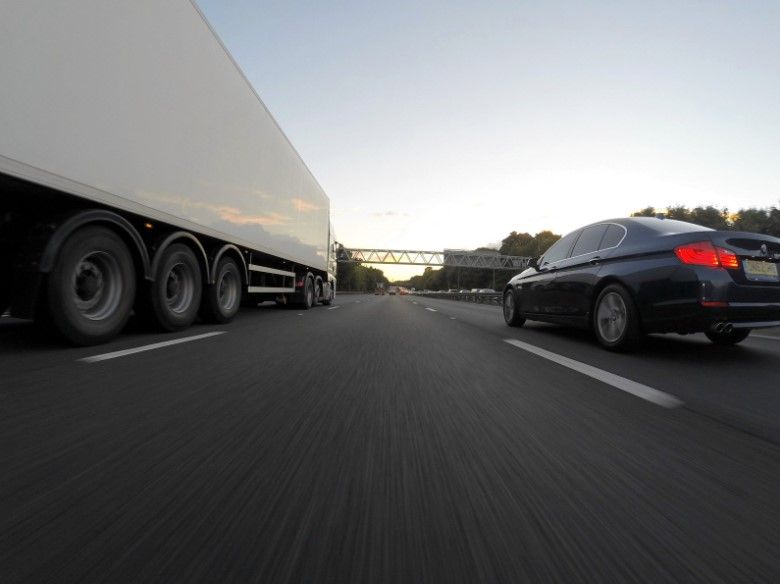 An accident involving an 18-wheeler, tractor-trailer, or semi-truck is often life-altering, and sometimes fatal for occupants of a passenger vehicle or pedestrians involved in the accident. Tractor trailer accidents are typically far more complex than car accident cases due to the sheer amount of laws, regulations, and factors that they usually involve.
A tractor-trailer can weigh more than 80,000 pounds and be up to 75 feet in length. According to the United States Department of Transportation (US DOT), out of 500,000 tractor trailer accidents each year, about 5,000 are fatal.
Many tractor trailer accidents are caused by driver fatigue, distractions, defective products, and any number of other factors.
According to Dan Ramsdell, the National Director of The Association of Plaintiff Interstate Trucking Lawyers (APITLAmerica), one of the most pressing problems in the trucking industry today is fatigued driving, with nearly 40 percent of big truck crashes being caused by or contributed to a fatigued driver.
A member of our firm can help determine whether the accident was caused by a fatigued truck driver and, if so, you may be entitled to punitive damages in addition to compensatory losses.
Tractor trailer accidents may involve multiple insurance companies, regulatory agencies, and law enforcement agencies.
Trucking industry regulations allow victims of tractor trailer accidents to bring claims against both the truck driver and the trucking company that employs or contracts with the driver. Check out our Truck Accident Lawsuit Guide for more information.
Turn to Alex & Associates when you need legal help after a truck accident. Call (602) 483-6114 or fill out our online contact form.
Fighting for Clients Against Trucking Companies
Alex & Associates handles 18-wheeler and tractor trailer accidents claims for clients throughout Arizona, California, New Mexico, Utah, Nevada, and Texas from our offices in the Phoenix area, and are happy to assist out-of-state firms in claims handled in Arizona courts. If you would like to arrange a free consultation with a truck accident attorney in Phoenix, please contact our firm today.
We have successfully recovered impressive settlements and verdicts on behalf of clients for losses in tractor trailer accidents. The key to successful results is preserving critical evidence. It is important to retain an experienced trucking accident attorney as soon as possible.
Keep in mind, national trucking companies immediately send a team of company investigators to the accident scene. They sometimes arrive at the scene at the same time as police and other emergency personnel.
Preserving Critical Evidence
Alex & Associates's investigators and expert reconstructionists often travel to the scene of the accident to gather their own data, including skid marks, accident debris, and other physical evidence at the scene. Eyewitnesses and the investigating police officers are interviewed as soon as possible while the information is fresh. Alex & Associates, P.C. will send a certified letter to the trucking company requiring the company to preserve critical evidence.
This letter requests 21 items of evidence to be preserved, including:
Duty status logs of the truck driver
Black box data
Fuel receipts
Weight scale receipts
Delivery gate receipts
Bill of ladings
Satellite position devices (GPS)
Dispatch records and logs
Additional Resources
Looking for additional resources regarding your truck accident lawsuit? Our personal injury blog posts include information and advice from our professional truck accident lawyers:
Compensation for Trucking Accident Victims
Victims of a trucking accident are entitled to compensation for their:
Injuries (often severe)
Hospital
Doctor
Other medical bills
Lost wages (including lost earning capacity)
Pain and suffering (past and future)
Permanent impairment and disfigurement.
The victim's damages may change their life forever and help pay off medical expenses and lost earnings over the course of a lifetime.
If the trucking accident results in a fatality, Arizona's wrongful death statute governs who can bring a claim, commonly referred to as statutory beneficiaries. The measure of damages for the statutory beneficiaries is complex and requires experts to establish the full value of the claim.
Other Commercial Vehicles
In addition to commercial tractor-trailer accidents, our lawyers are prepared to handle all commercial vehicle accidents including rock haulers, log trucks, box trucks, dump trucks, cement trucks, and construction vehicles.
Your Team of Experts
Tractor-trailer accidents are never routine and almost always require a team of leading experts including accident reconstructionists, investigators, logbook examiners, doctors, vocational rehabilitation specialists, and economists to demonstrate the full value of our client's claim.
Alex & Associates has the commitment and resources to assemble that team and take the case to trial, or appeal if necessary, to help recover maximum compensation for our client.
When handling an injury or death claim from a truck accident, Alex & Associates, P.C. can send an investigator to the scene of the accident, often on the day, we take your case, to see that evidence is preserved and witness statements are recorded while memories are fresh.
It is important it is to retain a proven tractor-trailer accident attorney — one with experience in these complex cases — as soon as possible.
Watch how we use advanced trial technology to build your case.
Skilled Negotiators & Proven Trial Attorneys
Almost all tractor trailer and commercial vehicle accidents involving serious injuries are not settled until a lawsuit is filed and substantial discovery has been performed.
The trucking company or its insurance company will vigorously defend their case. It is important that your attorney has a great deal of experience handling trucking accidents. Over and above, the partners at Alex & Associates have earned a reputation as excellent negotiators and times-tested trial attorneys.
To speak to a senior attorney regarding your tractor trailer accident, please call us for a free consultation at (602) 483-6114. With us, you can sleep well at night knowing you and your family are in caring and capable hands.
Handling Personal Injury Matters with a 99% Success Rate!
Trucking Accidents $900,000
Committed to Changing Lives for the Better
I really appreciate Tristan and Lori went battle for me to win my case - Charles A.

Thank you Laura & Trista for your hard work - April A.

I would highly recommend this firm, there isn't anyone better out there! - Amber B.

They got me a good settlement for my personal injury claim. - JK R.

Highly recommend. - Natalie M.
Advanced Cutting-Edge Technology to Win Cases

The Clients We Serve Are Our #1 Priority

We Provide Initial Case Evaluations Free of Charge

Our Firm is Backed by a 99% Success Rate

We Handle Cases With a No-Fee Promise

Representation in Both English and Spanish