You Think It Might Be Wrongful Death: Now What?
If you lose a loved one due to negligence, medical malpractice, negligent drivers, defective products or defective drugs, my Ebook will show you how to get compensation! Every State in the United States has some kind of wrongful death law. Wrongful death claims involve all types of fatal accidents from simple car accidents to complicated medical malpractice, defective drugs and products to car and bus accidents.
When someone dies due to the fault of another person or entity (like a car manufacturer), the survivors may be able to bring a wrongful death lawsuit, depending on the merits of their claim. Defective vehicles and negligent driving behavior account for thousands of accidents and injuries each year. Request this valuable free Ebook to find out if you have a case. CHECK YOUR EMAIL FOR A DOWNLOAD LINK!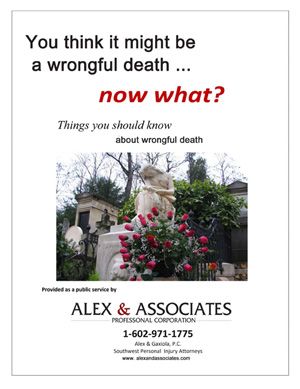 Handling Personal Injury Matters with a 99% Success Rate!
Wrongful Death $2,000,000
Committed to Changing Lives for the Better
He was relentless in moving my case forward to a good result. - Joseph A.

Attorney Alex is extremely efficient, approachable and professional. - Agatha A.

They are really professional, friendly people. - Gaby E.

They treated me like family. - Julia R.

If I need assistance from a legal team, these are the go to guys. - Gary S.
Advanced Cutting-Edge Technology to Win Cases

The Clients We Serve Are Our #1 Priority

We Provide Initial Case Evaluations Free of Charge

Our Firm is Backed by a 99% Success Rate

We Handle Cases With a No-Fee Promise

Representation in Both English and Spanish